Micron Exceed Color Vid 4 Card Mac SE/30 RARE
Item # 1284237860
Computers:Apple, Macintosh:Vintage
Computers:Apple, Macintosh:68K, Mac
Bidding is closed for this item.

Show description "Leave feedback"
(to seller)
(to bidder)


| | |
| --- | --- |
| If you are the seller or a high bidder - now what? | |

Currently
$265.00
First bid
$1.00
Quantity
1
# of bids
18 bid history
Time left
Auction has ended.

Location
Austin
Country/Region
USA/Austin
Started
Oct-10-01 20:30:21 PDT
mail this auction to a friend

Ends
Oct-17-01 20:30:21 PDT
request a gift alert

Seller (Rating)
bwavecowboy (182)
view comments in seller's Feedback Profile | view seller's other auctions | ask seller a question
High bid
macfanrudy (134)
Payment
Money Order/Cashiers Checks. See item description for payment methods accepted

Shipping
Buyer pays actual shipping charges. Will ship to United States only. See item description for shipping charges.

Relist item
Seller: Didn't sell your item the first time? eBay will refund your relisting fee if it sells the second time around.
Ô Relist this item and eBay will refund your relisting fee if it sells the second time around.
Ô See more options
Seller assumes all responsibility for listing this item. You should contact the seller to resolve any questions before bidding. Auction currency is U.S. dollars ( $ ) unless otherwise noted.
***PLEASE NOTE***
I DO NOT SHIP OUTSIDE THE US.
I AM STILL GETTING WINNERS IN JAPAN AND OTHER COUNTRIES. IF YOU ARE NOT IN THE US AND YOU ARE A WINNER, YOU WILL GET NEGATIVE FEEDBACK AND THE AUCTION GOES TO THE 2ND HIGHEST BIDDER, NO EXCEPTIONS.
I DO NOT TAKE ANYTHING BUT MONEY ORDERS, CASHIER'S CHECKS and PayPal. IF I GET ANYTHING ELSE, NO MATTER THE TOTAL, YOU WILL GET NEGATIVE FEEDBACK AND BE BANNED FROM ALL MY FUTURE AUCTIONS, NO EXCEPTIONS.
Sorry for yelling but it seems to be working : )
---

use my email address for paypal›payments
Micron Exceed Color Video Card For Mac SE/30
NEVER OPENED!!!!!
NEVER USED!!!!!
STILL SEALED!!!!!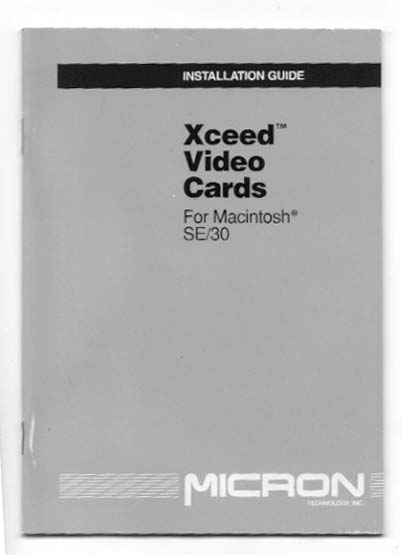 E X T R E M E LY
R A R E ! ! ! !
This has been one of the hottest
Mac related items on eBay for the past several years.
People have been known to pay
close to $500 for this (I know they are crazy!)
NEVER OPENED!!!!!
NEVER USED!!!!!
STILL SEALED!!!!!
THIS IS THE REAL DEAL FOLKS!
Poeple have been looking for these for YEARS!
Attach both Mac and PCCOL ORmonitors to your SE/30!

Get a virtual desktop and drag items from one screen to the other!

Boot off EITHER screen!

Great for internet, older graphics apps, spreadsheets, people with bad vision

I use mine for Debian Linux

Still sealed in anti-static bag with original Micron sticker holding it closed (not re-bagged)!!

Includes a VGA type monitor port as well as a 25 pin Mac type monitor port! (you can only install one of these ports at a time)

Software included

Manual included

Even comes with the original warranty card!

Original outside box (in case you want to re-sell it on eBay in a few years for $1000)
If you do not agree with these terms,
PLEASE DO NOT BID!
›

By entering a bid in this auction, you agree to be bound by ALL of the following:
DO NOT BID! if you are not planning on completing the auction.
Winning bidder will be contacted via email; if no response is received within 72 hours, I reserve the right to sell item to the next highest bidder, re-list the item in a new auction or remove the item from being for auction.
Per eBay rules, I reserve the right to reject winning bids from any user with hidden information or negative feedback, or from users who have violated the terms of any of our past auctions.
Where applicable, Bidder is responsible for verifying compatibility with existing equipment.
No shipping outside of the United States.
Shipping and Packaging charges are not included. I make every attempt possible to keep these costs at a minimum, however items such as Computer Monitors are HEAVY and require double boxing. Do not expect that Monitors will be cheap to pack/ship - costs in the $40 to $50 range are not uncommon.
I do not cover damage that occurs during shipping; you must contact the carrier for claims arising from damage while in transit.
Bids from bidders with 5% or higher negative feedback rating will be removed. (must have 95% or higher positive feedback.)
Payments are to be made by cashiers checks or money orders only. Personal checks are not accepted. If you cannot or do not wish to pay by either approved method, please do not bid.
Unless special arrangements are made, if payment is not received within seven (7) days of the auction close negative feedback will be given and the item(s) re-listed. The buyer is required to prepay any and all actual shipping and insurance costs for all items bought in addition to the final auction high bid. All items will be insured for an appropriate amount to protect both buyer and seller from shippingdamage.
All items are sold with no warranty or guarantee either expressed or implied.
"Guaranteed No DOA" items may be returned for a refund, excluding shipping costs, if returned to the seller (at buyer's expense) within ten (10) days of the item's original ship date.
If items are not received within that time, the seller will hold the item or resend it to the buyer again at the buyer's expense.
If the winner is NOT in the continental US, it will go to the second highest bidder with no prior notice to the high bidder, NO EXCEPTIONS.
Any item(s) sold will be shipped to the buyer on Mondays, my day off, NO EXCEPTIONS.
Appropriate feedback will be left for all winning bidders. Negative feedback will be left as appropriate with no prior warning.
Good luck and pleasant bidding.
If you do not agree with these terms,
PLEASE DO NOT BID!
COUNTER =
00321

Bidding is closed for this item.